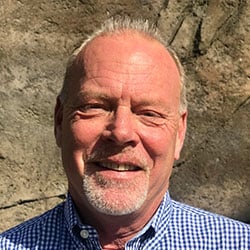 Jim has over thirty years of experience in the construction industry in various capacities with specific expertise in estimating, scheduling and start-up and commissioning of industrial, commercial and power generation facilities, and has a thorough and comprehensive knowledge of all aspects of construction. His experience in managing large, complicated industrial projects which require strong emphasis and expertise in the coordination of mechanical, electrical, instrumentation and piping systems is extensive. Jim's experience is varied with projects including steel mills, power plants, bridges, rail yards, schools, chemical plants, office tenant improvements, and healthcare.
With Mechanical Engineering education, Jim started his career as a field engineer in power generation facilities. Since then he has held positions including project engineer, chief estimator, project manager and construction manager on numerous large and complicated projects from robotic transfer line automation to state of the art medical imaging and cardiac interventional suites..
Since joining HB&A in 2000, Jim has served as construction manager for a 900,000 square feet warehouse facility in Hebron Kentucky, the $22M expansion of Toyota's Princeton Marshalling yard in Princeton Indiana, a $33M Port of Portland distribution and processing facility in Portland, OR, a $50M vehicle distribution and processing facility in San Antonio, Texas and a $36M plant expansion in Fremont, CA.
Most recently, Jim has successfully managed projects including installation of MRI's, CT scanners and fluoroscopy equipment in a hospital environment. Also recently completed were 7 orthopedic operating rooms, 2 emergency operating rooms and recovery spaces including renovations to an Intensive Care Unit.
Projects under Jim's leadership have been the recipients of the McGraw-Hill Top Project award, CoreNet's Excellence in Leadership award and CMAA's Southern California Project of the Year.